Summer 2016 Orthodox Illustrations: Part 1
Remember when I wanted to do this summary post weekly? yeah, me too. At least I tried, right? This will hopefully be where all the Orthodox illustrations live. I usually post the work to social media first, but I feel like a website is a more permanent home to finished pieces.
This has been a full-fledged Orthodox summer for my wife and I – weddings almost every weekend! Most of which we had part in so it's been busy to say the least.
That being said, I manged to pump a continious stream of illustrations. I'm going to break these posts up a bit so it's not just one huge post.
Part 1: May
May was when things started ramping up, I made illustrations for Saint Demiana, Abba Aghathon, and Saint Antony the great.
Saint Demiana
This visual medium gives me a chance to explore moments and emphasize parts of saint stories that are often missed, parts we don't necessarily stop and think about when we quickly read an Orthodox saint story.
Saint Demiana is the patron saint for my current grade 5 Sunday School class, and even though her story is full of lessons to be learned – this moment below is what struck me as most impactful. The way she stood up to her father's lack of faith, and had the courage to tell him that his decision to deny his Christian faith is not okay. That's real courage.
Here is some work-in-progress footage: pencils, and a video of the inking.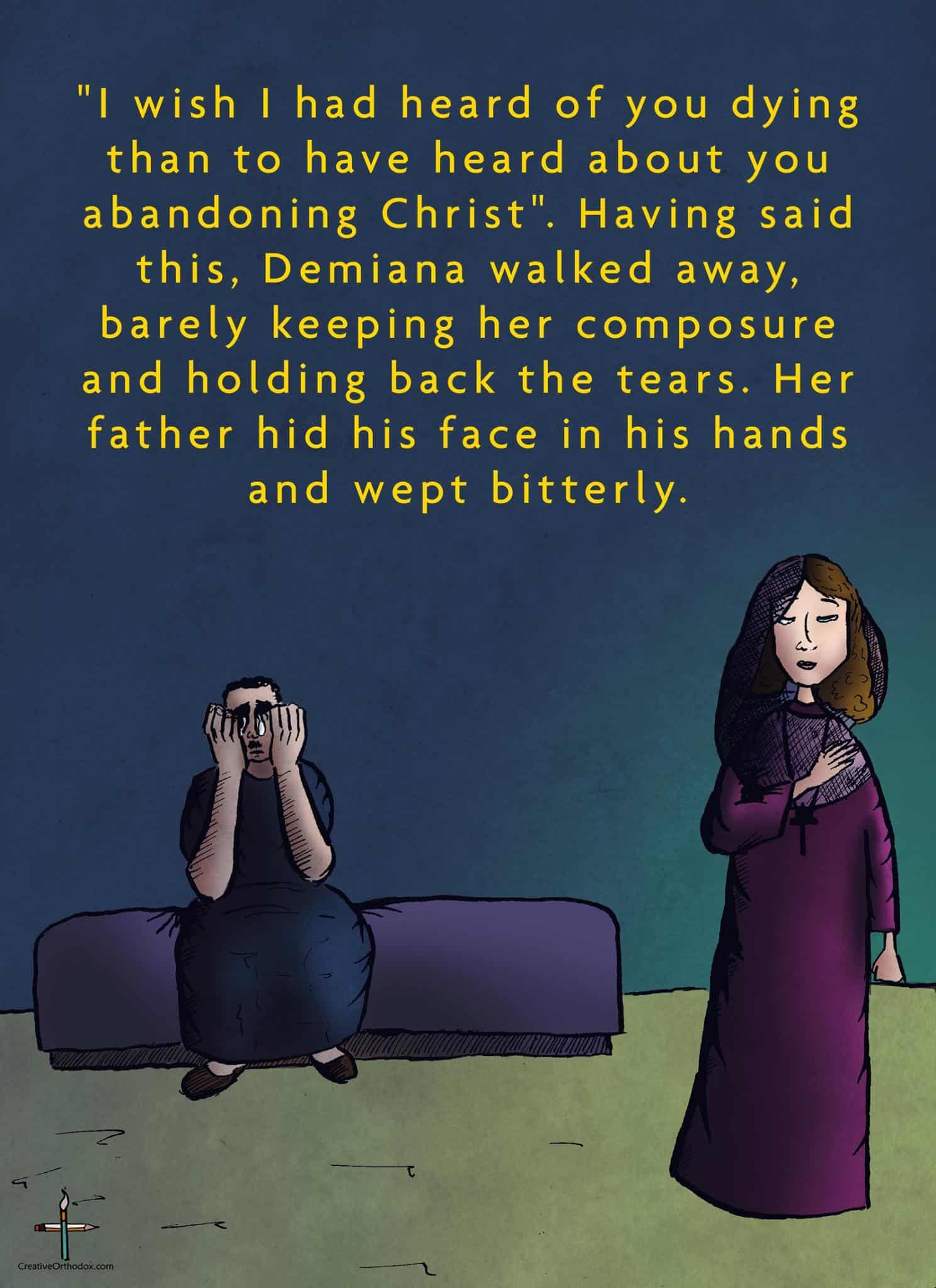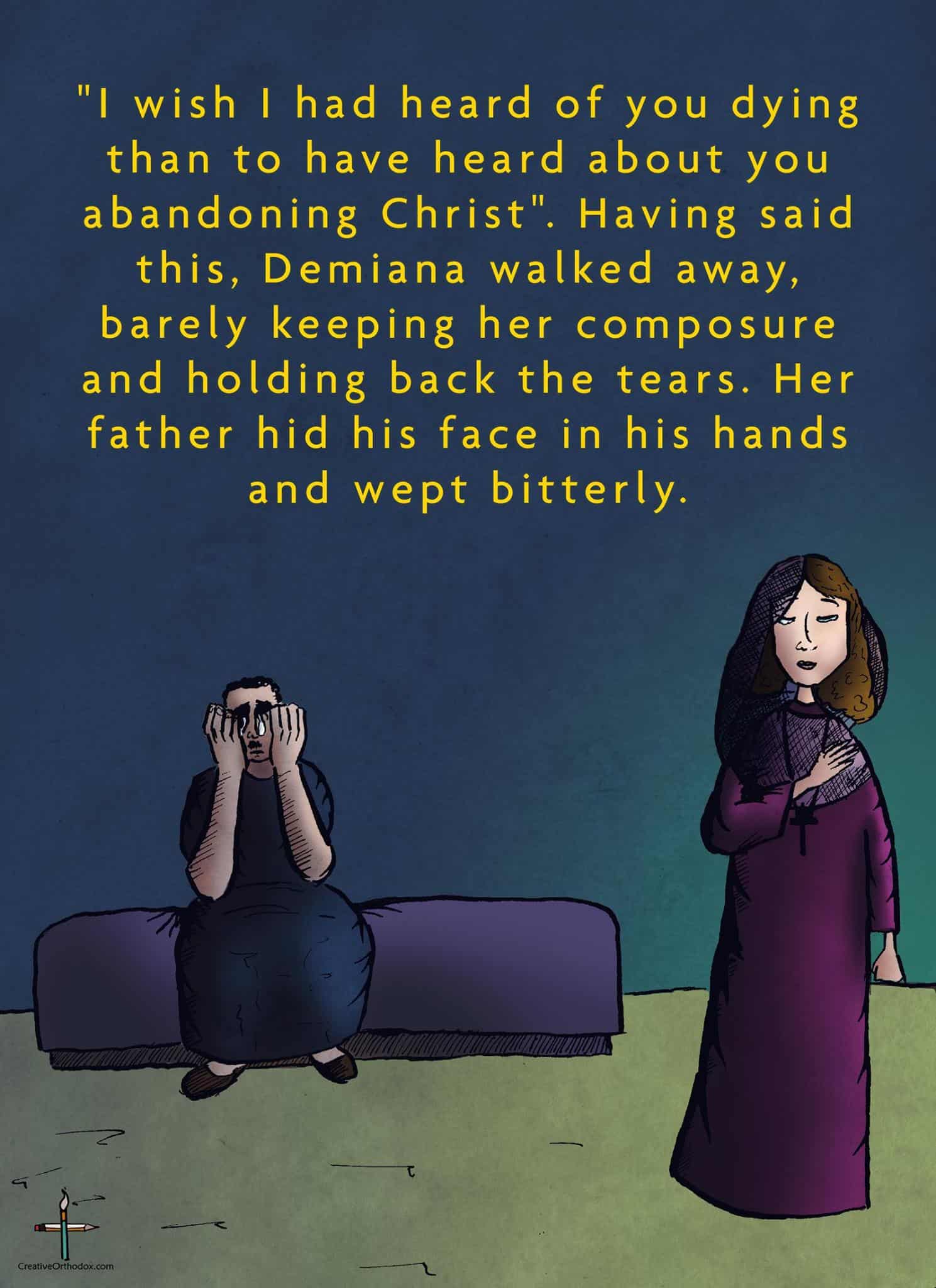 Saint Demiana takes a stand for her faith
Abba Aghathon
I love this quote, I'm going to print this poster soon – because I need this infront of me at all times. One of the reasons I love the desert fathers is that they're real, they do live lives of extreme disciplin and asceticism, but they emphasize that it's not easy and always work their way up to those levels of asceticism.
This is what Abba Aghathon says on Prayer:
 "I consider no other labor as difficult as prayer. When we are ready to pray, our spiritual enemies interfere. They understand it is only by making it difficult for us to pray that they can harm us. Other things will meet with success if we keep at it, but laboring at prayer is a war that will continue until we die."
Saint Antony the Egyptian
If there are two desert fathers I'm incredibly biased towards, it's Saints Antony and John the short. I've probably drawn both a million times, and will probably draw them a million more.
If you
read his life
, you will quickly learn that Saint Antony wasn't, by any worldly standards, educated. Yet his wisdom shined through his speech time and time again. He would hold conversations with greek philosophers and have
them
marvel at his wisdom.
This one in particular is a very short saying by Saint Antony yet holds a LOT of value.
 "Saying that God turns away from the sinful is like saying the sun turns away from the blind"
That's it for May's drawings! I'll be posting the rest of my summer pieces in 2 or 3 more posts. Lots more to cover! 😀